Review copy was sent in by Odepro to me here in the Philippines, whom I thank for the confidence afforded to me.

Preface: I actually won this copy from Odepro's Facebook giveaway, and so I decided to make a review for this light as well. The TM30 has a Dual-tactical tail switch and a side switch offer a fast access to momentary-on function and strobe mode.
It's durable aluminum body make it the top pocket flashlight for tactical situations, outdoor activities, camping, hiking, hunting, fishing, home use, military and as a powerful emergency light.
Packaging:
My copy came in a black plastic carrying case with snap on locks. Like a toolkit box, perfect to put at the back of the car or beside your BOB for emergency.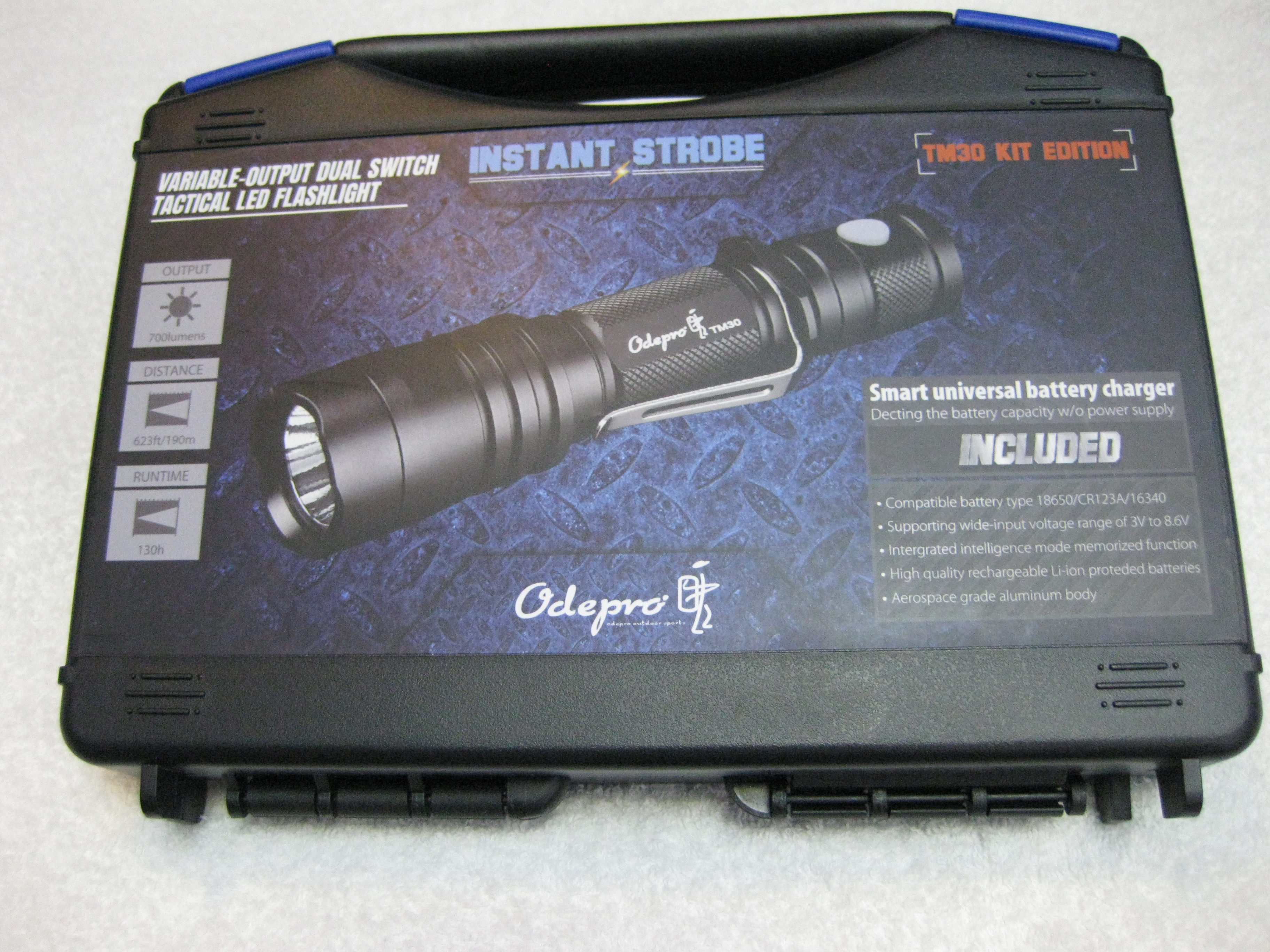 Inclusions:
1x TM30 tactical light
1x single cell intelli-charger
2x 18650 3000mah Odepro branded battery (yes two!)
2x extra O-rings
2x manuals (yes two!)
1x warranty card
1x usb charging cable for the charger
1x lanyard (attached to the light)
1x holster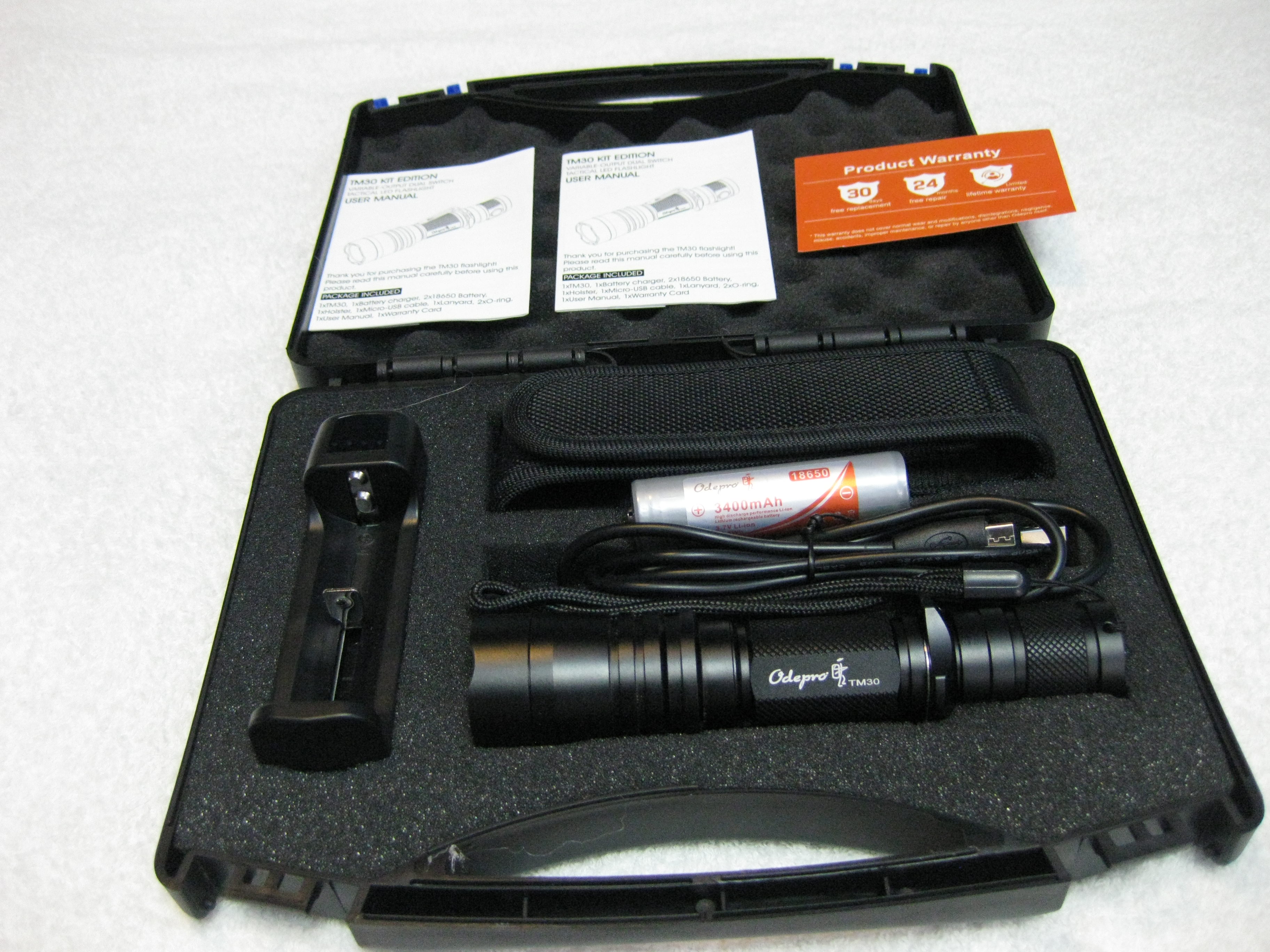 Quick Features:
Manufacturer Specifications:
LED: CREE XM-L2 (U4)
-Working Voltage: 3-4.2V
-Lumens: Turbo(750 lumens)-High(250 lumens)-Middle(50 lumens)-Low(12 lumens)-Strobe(280 lumens)
-Irradiation Distance: 730 feet
-LED Runtime: 50,000hours
-Waterproof Level: IPX 6, can prevent rain and living water
-Size: 1.33*0.97*5.7 in
-Weight: 121.1g
-190-meter max throw distance
-IP66 rated water resistance
-Aluminum, anti-abrasive body
MSRP: $49.99 retail
Operation:
Upon putting in the battery and screwing the tailcap/head to place, there would be 3 quick flashes signaling the light is ready.
To turn ON: Single click from the tail switch.
Mode switching: Single click of the side switch (Turbo – High – Medium – Low)
Strobe mode: Long press of the side switch while the light is turned off.
The light has mode memory. Momentary ON is available by half-pressing the tail switch.
No electronic lockout function is available, only a mechanical lockout by turning the tailcap 1/4th counter clockwise.
Form Factor:
The light is minimally agressive looking tactical light with anodized black semi glossy finish. With the side switch and tail switch both made onto the tailcap itself. The side switch on the tailcap looks awkward at first, but it really is not nearly as awkward as one might think once you have the light in hand. The clip is has a nice design, although a bit thin.


Head:
The head has a semi-agressively made strike bezel that houses the LED which is an XM-L2 U4 (cool white), with an orange peel reflector.
The LED is perfectly centered in my particular copy.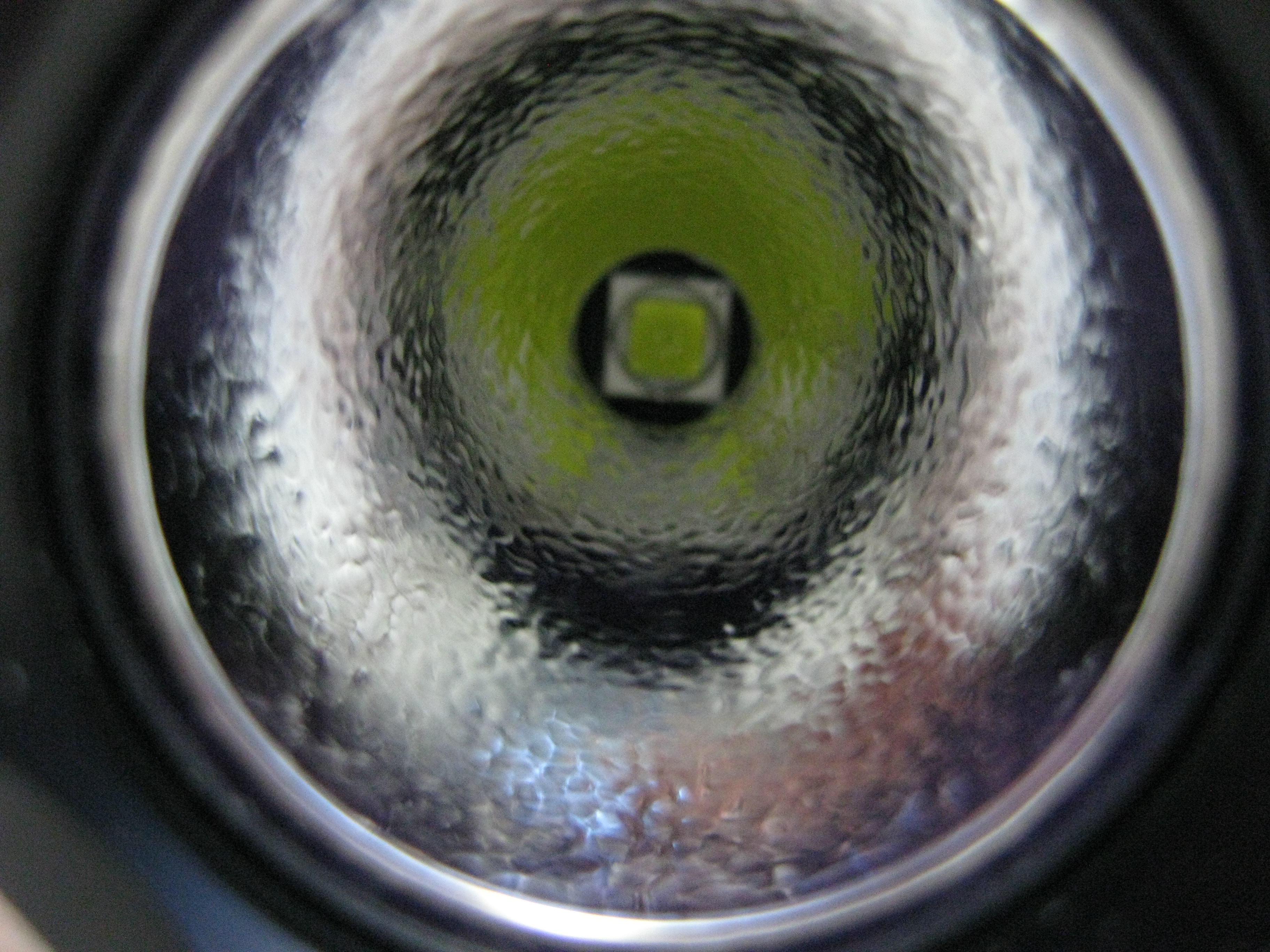 It also has deep set cooling fins for maximum heat dissipation, which I have to commend as the light doesn't turn hot fast even on TURBO.
Barrel:
It has diamond knurling with the brand clearly printed on one side and a battery half full picture on the other. The barrel size is slightly smaller than the head and tail switch design.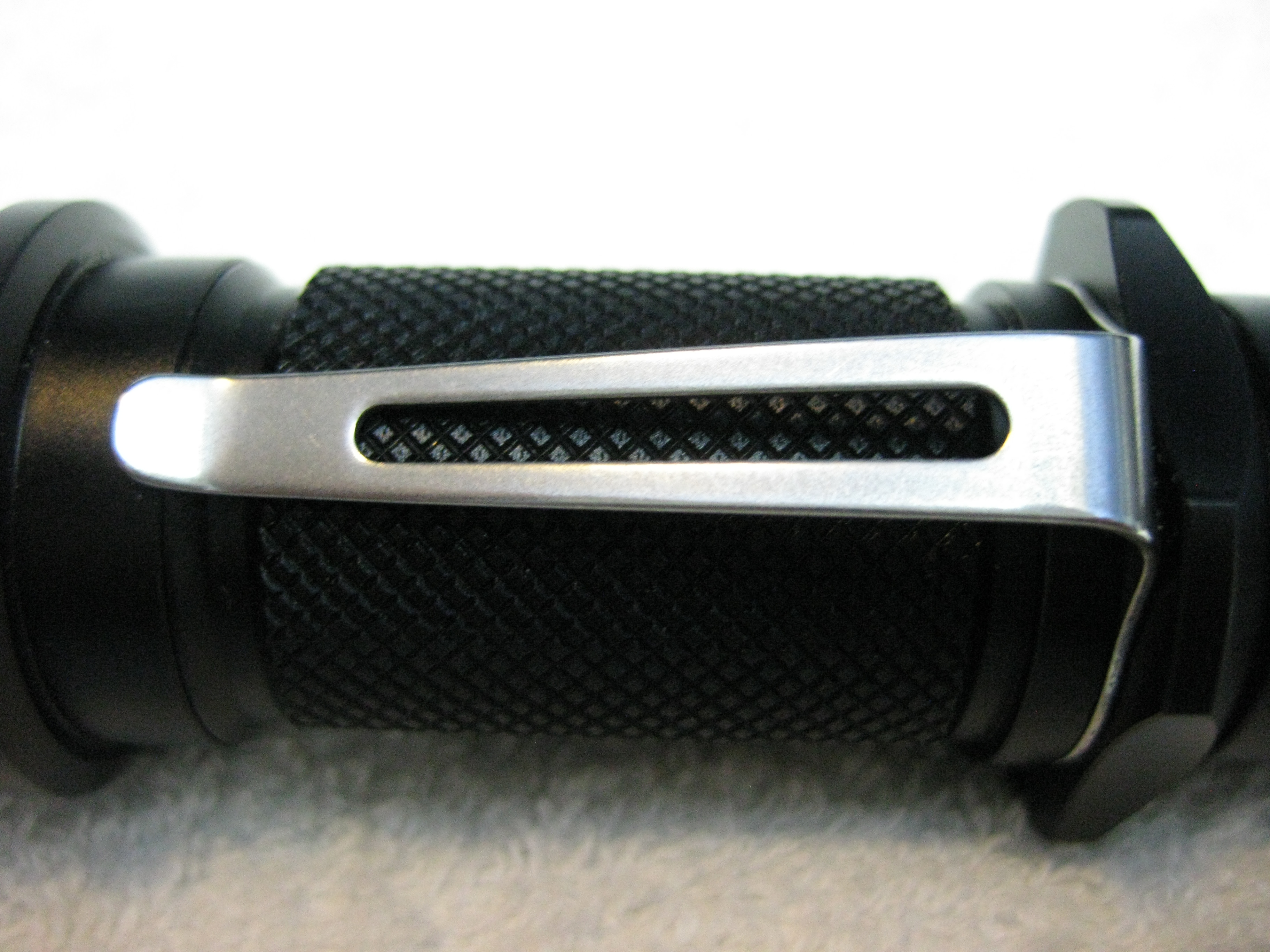 The tactical ring/cigarette ring is not removable in my copy, although the clip is

The threads triangular and are well lubed, as well as the o-ring in place. It is smooth to turn without the grit and fits on snugly.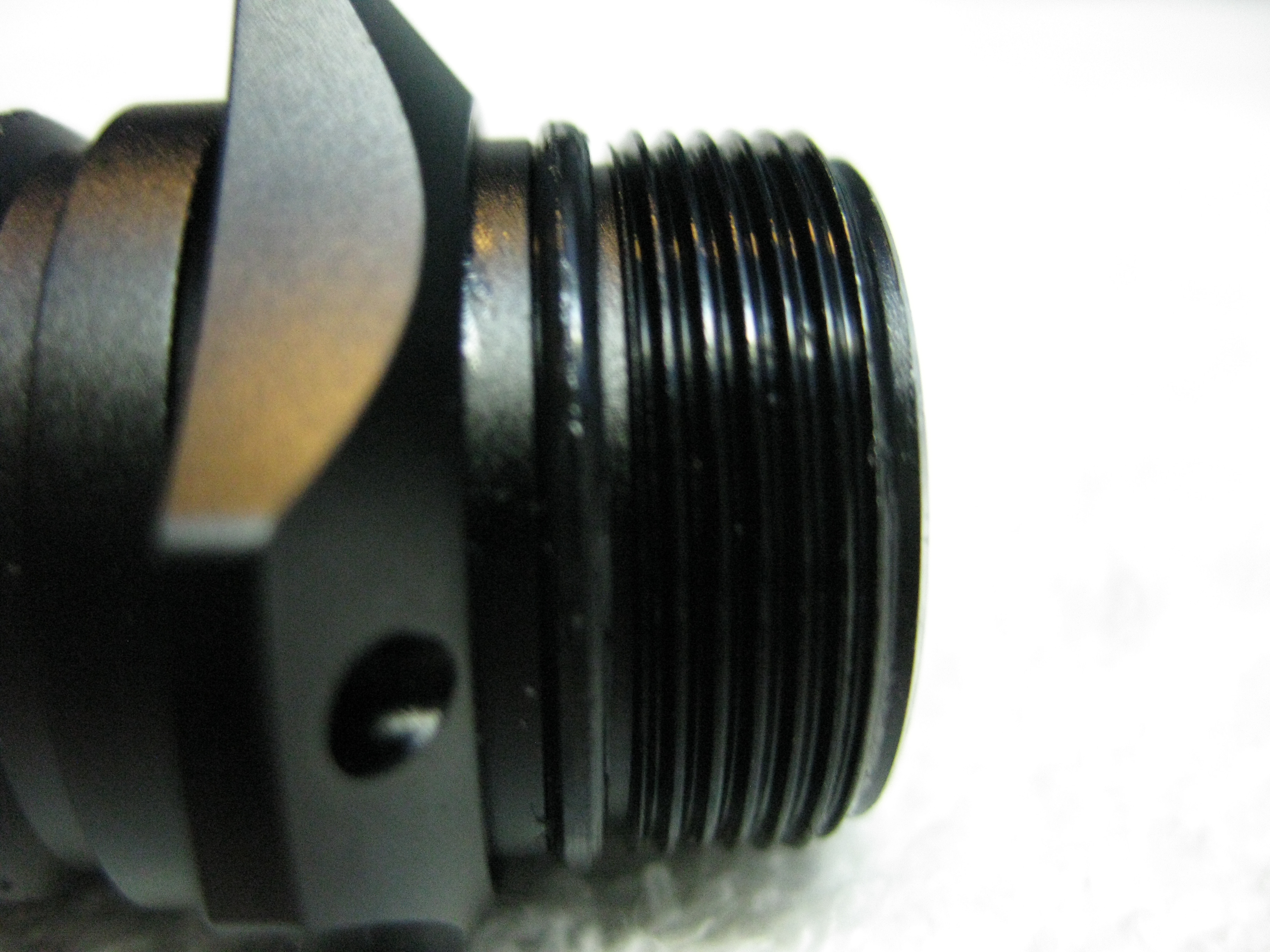 Tail:
The tailcap has a nipple type contact instead of the usual spring.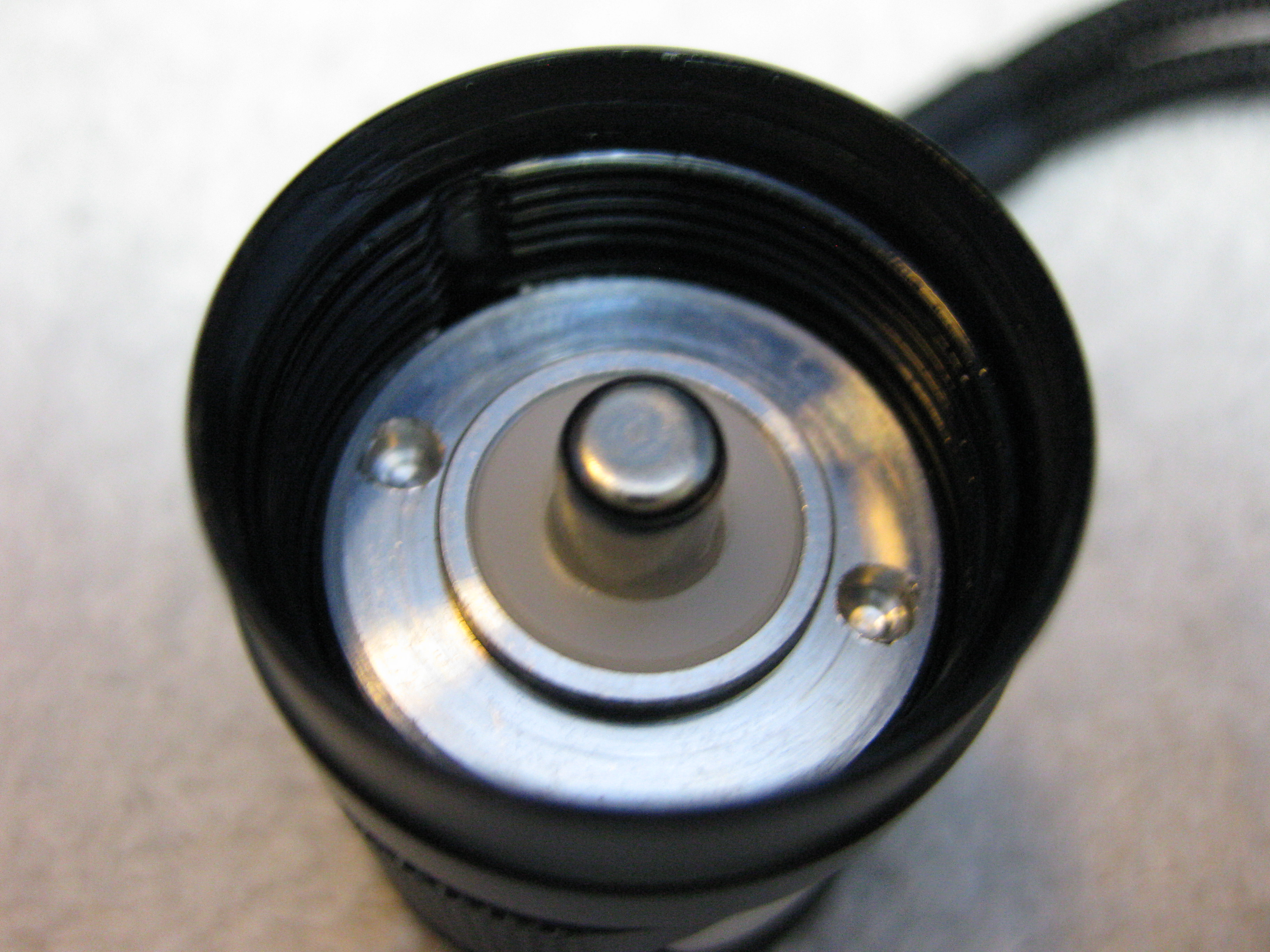 It houses the side switch and tail end switch of the light.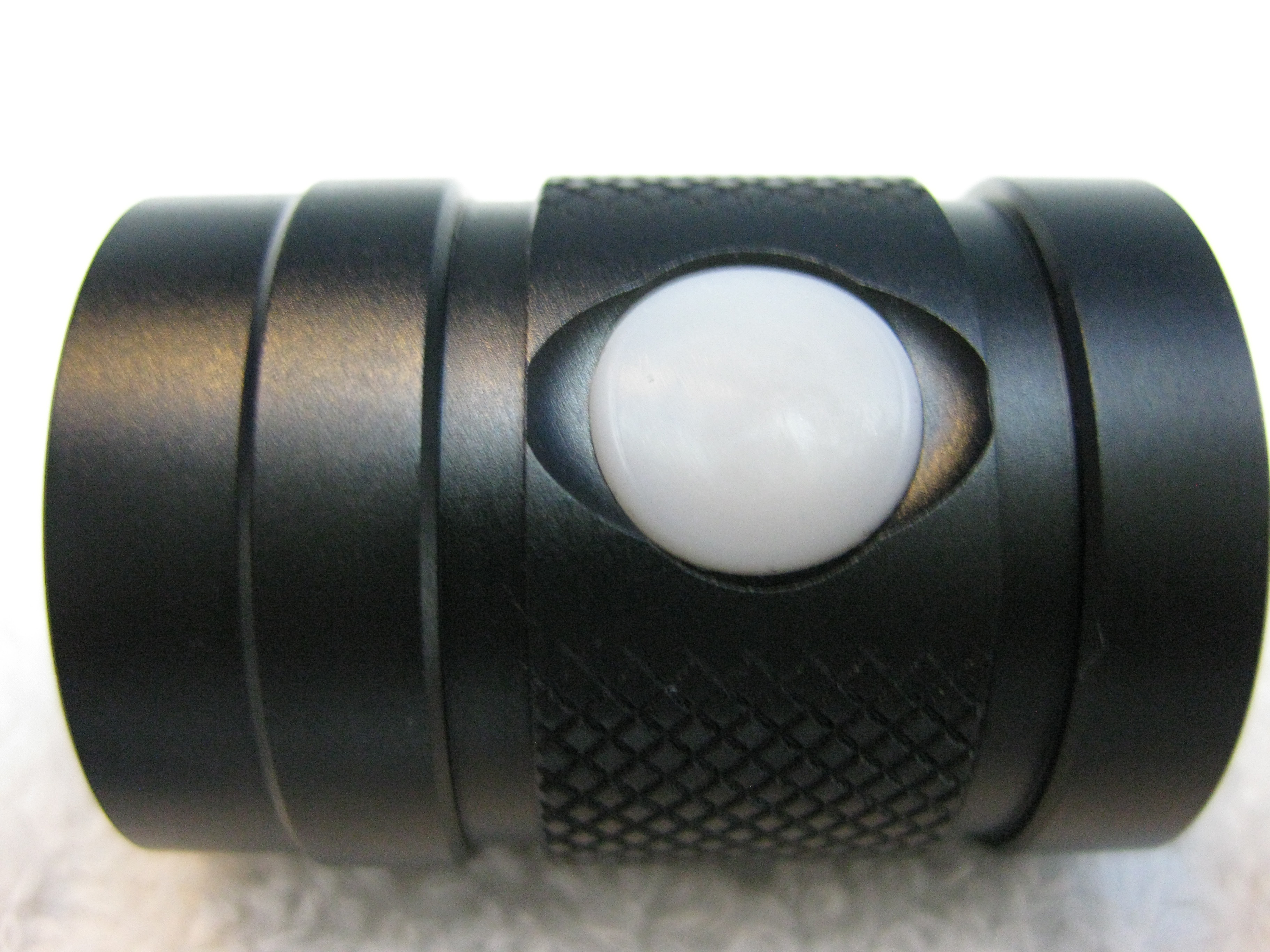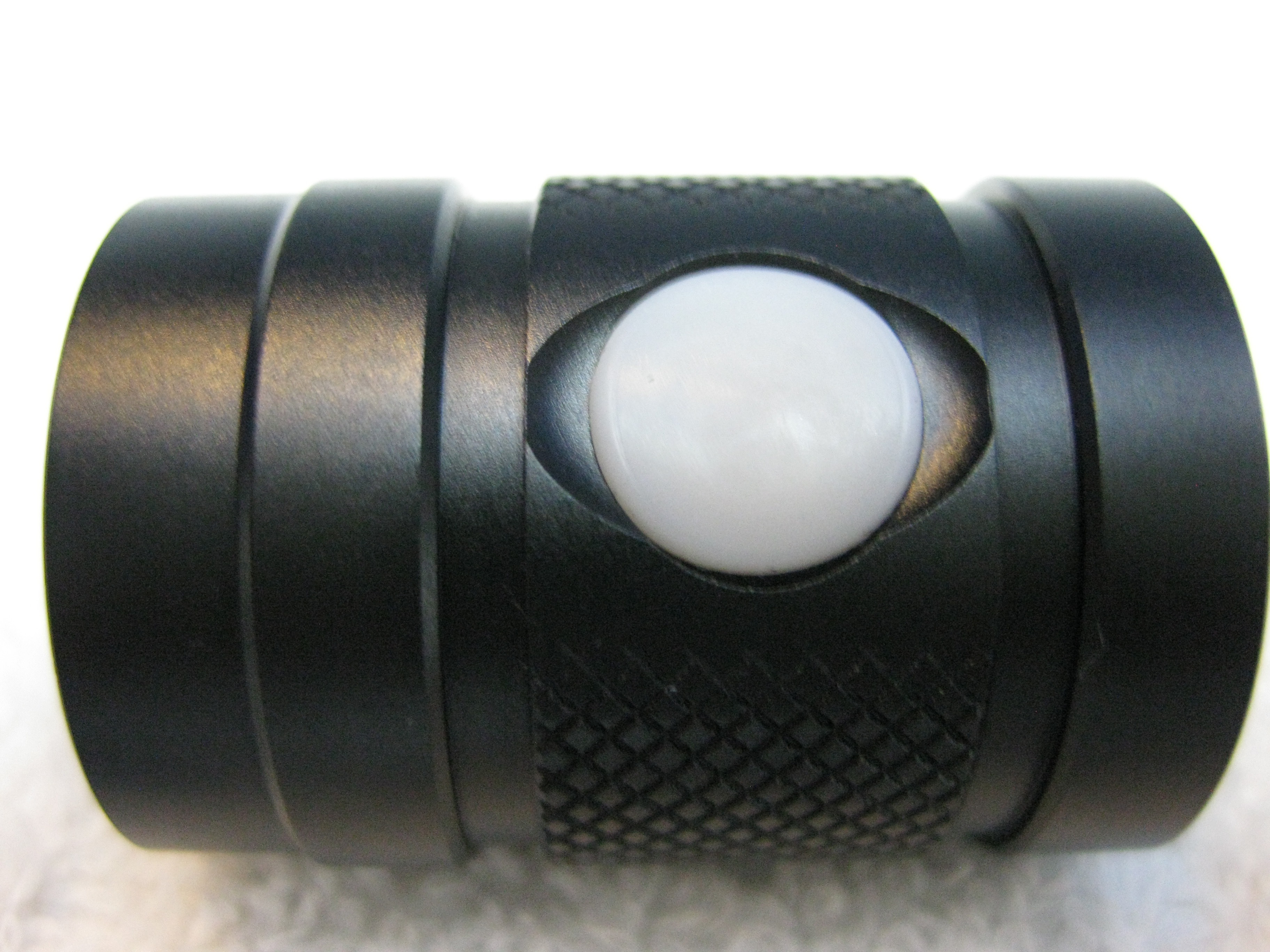 It has diamond knurling as well to provide grip. The tailcap end is perfectly circular and flat, the rubber switch at the bottom is not protruding and placed perfectly to give the light the ability to tail stand.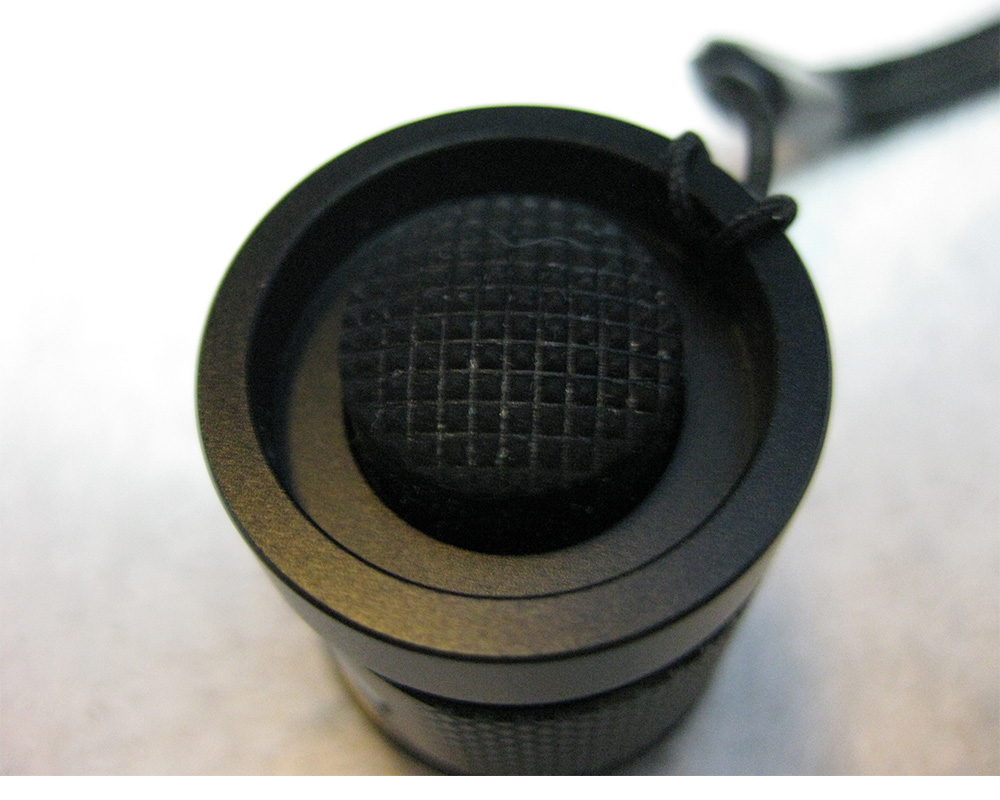 Beam shots:
LOW 10 feet away: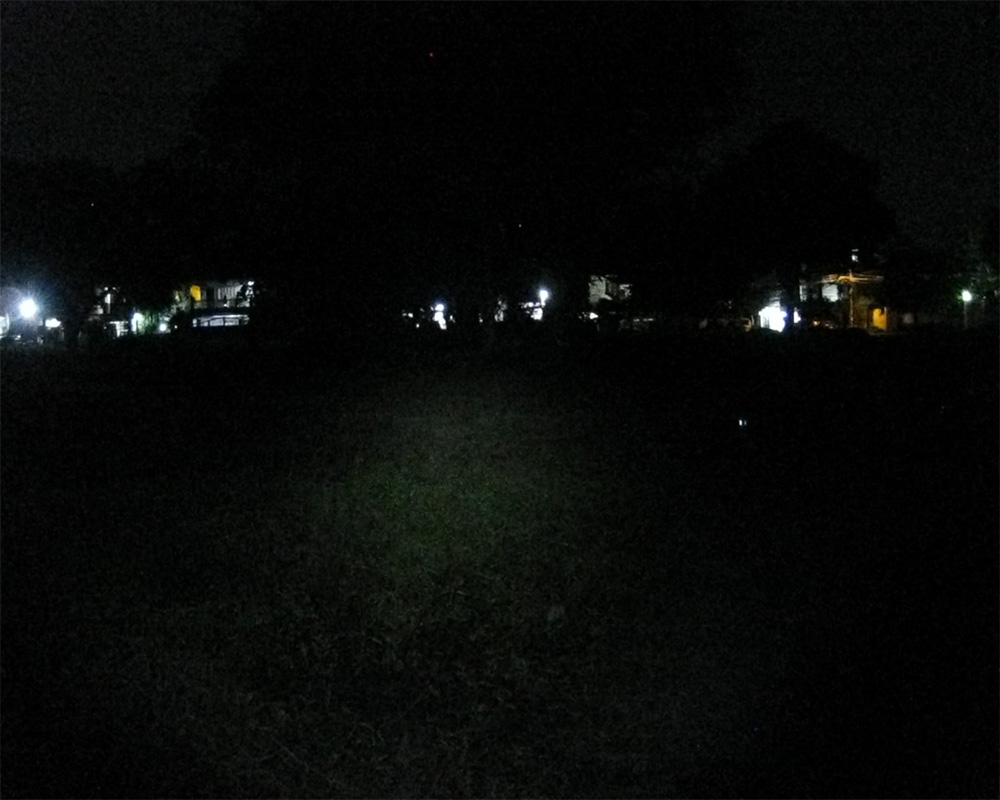 MED tree is at 150 feet away:
HIGH tree is at 150 feet away: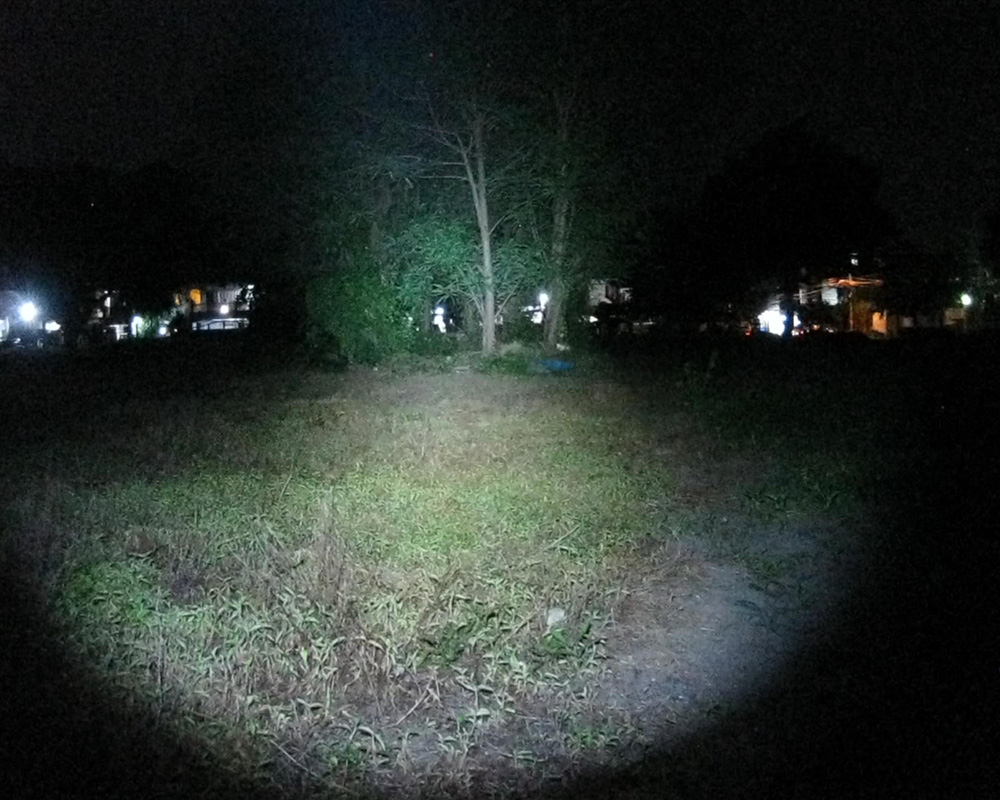 TURBO tree is at 150 feet away:
Conclusion:
To sum up, I believe that the most important part of any review is if given the chance to purchase the same light for my own EDC, would I still purchase it?
For this light, it is a definite YES. Specially if you are looking for a not so expensive, bang for the buck,complete Tactical flashlight with complete functions for this price point. Scrutinizing the light over throughout the review, I am hard pressed to find any flaws at this price point. If I were to nit-pick, it would be the lack of sos and beacon. Maybe an IPX8 rating would be better as well since it is a tactical light, however, overall, the light is well built, throws pretty good and has ample flood for it's design and specs. At this price point, with all the inclusions in the kit and functions of the light, I can say that it is truly a good value for money. Awesome job from Odepro for coming up with this light at this price point.
As with all gears, two is one and one is none.
Light on brothers!