With recent hurricanes Harvey and Irma still fresh in our memories, I am reminded of how vital preparedness is and the significant role that flashlights have in a prepared home. Serving in both realms – needs and wants – flashlights can (and do) save lives, illuminate safe paths away from impending danger, signal rescuers, help identify potential threats, and serve as a calming influence upon frightened family members. A flashlight's value isn't diminished when the storm ends though: everyday, ordinary, uses run a course for safety purposes to simple enjoyment.
We've all witnessed what happens when some major weather event is forecast: people flock to the stores; emptying the shelves of milk, water, bread, canned goods, and batteries. If you're one of the lucky people, you finished work just in time to go spend a chunk of your off-time in some crowded store. If you're really lucky, that crowded store will still have a few items left on the shelves – better hope batteries are one of those few items because you haven't checked your flashlight's batteries since the last major weather event.
Sound familiar?
I've been there and done that; most of us probably have. Go back some years and it wasn't uncommon for me to need the flashlight, only to find that the kids had left it on when they put it away – or didn't put it away at all – or the batteries had corroded. Naturally, any batteries we did have were in the kid's toys – and all but used up.
It seemed like I was constantly buying batteries and flashlights that just didn't do a good job at what they were supposed to do (even when I had fresh batteries).
Fast forward a number of years (OK – decades) and I find myself the owner of two dozen (+) flashlights – and that is after I've given quite a few away – all of which are high-quality brands/models. Out of all those flashlights – and many others before them – there is one flashlight that I consider to be superior to all the others.
The Orcatorch WR10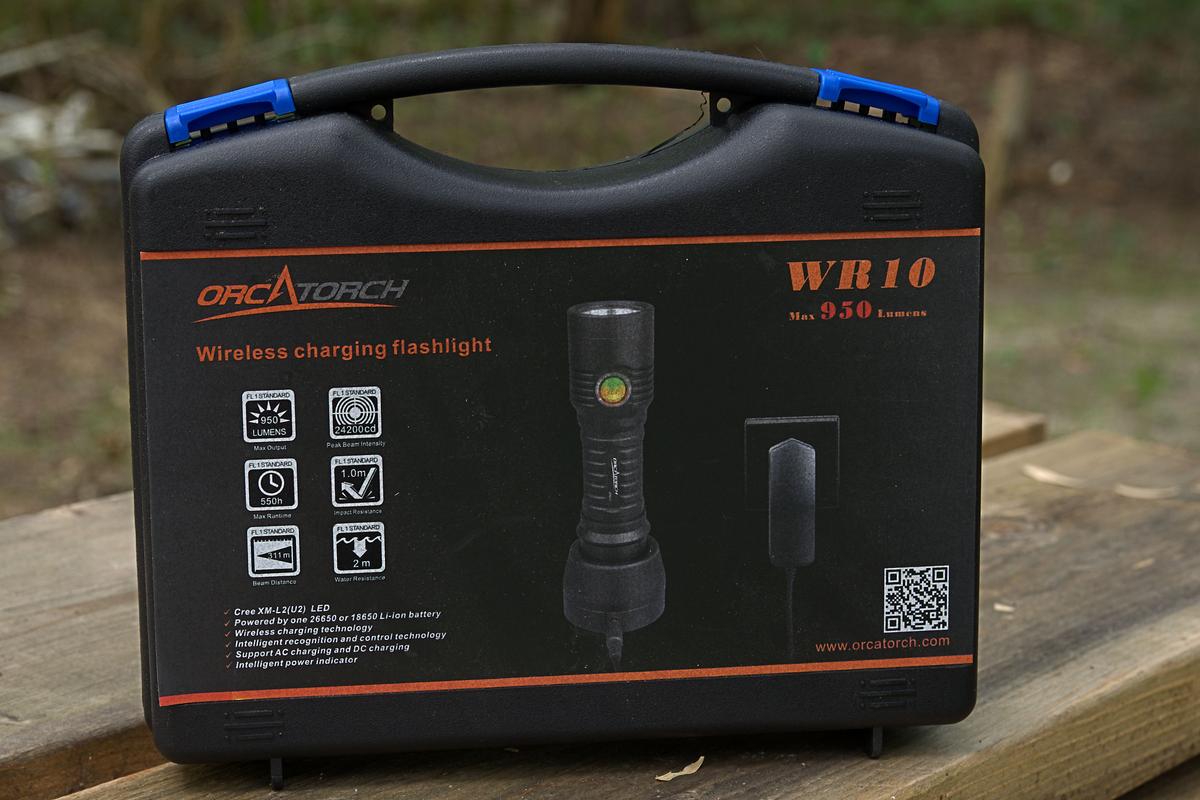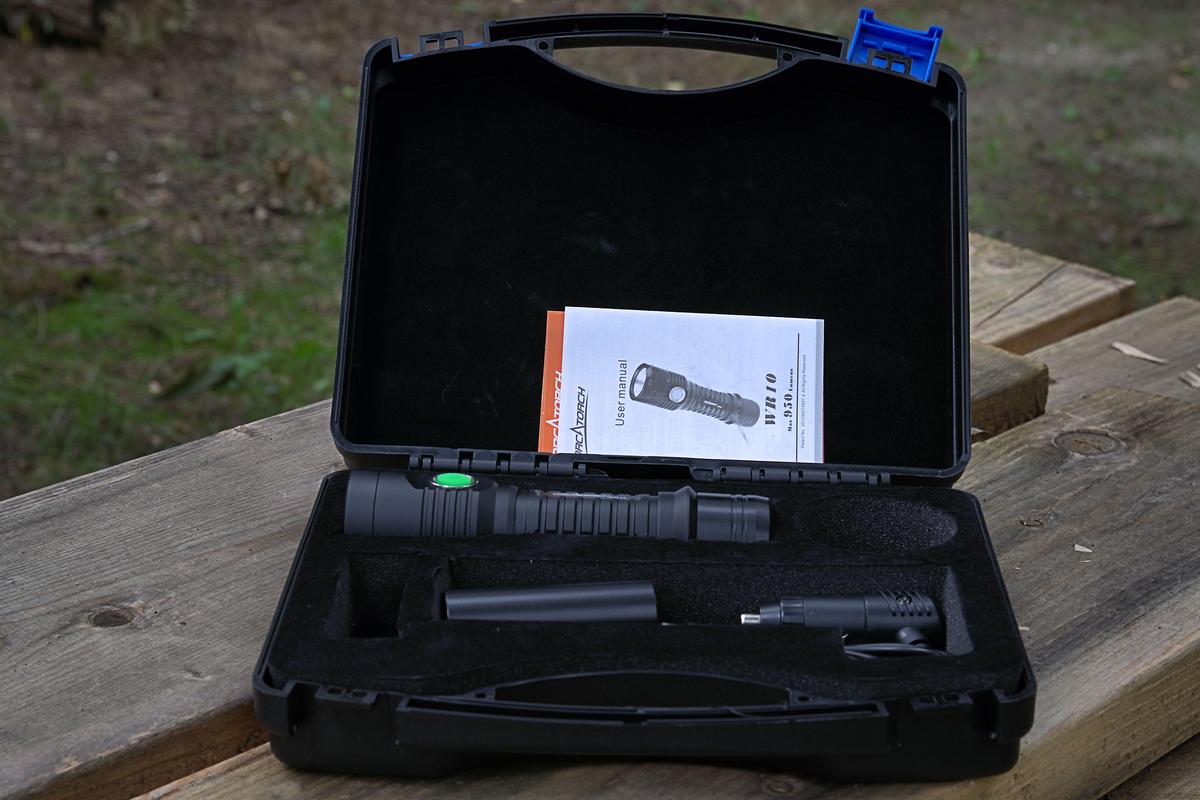 It comes as a complete package: including a plastic case with a padded interior, a 26650 rechargeable battery, a sleeve for a 18650 battery, the charging station, cords for AC or DC charging (home or vehicle) spare O-rings, and documentation (owner's manual and warranty card). (I downloaded the owner's manual from the Orcatorch website – it's easier on my eyes)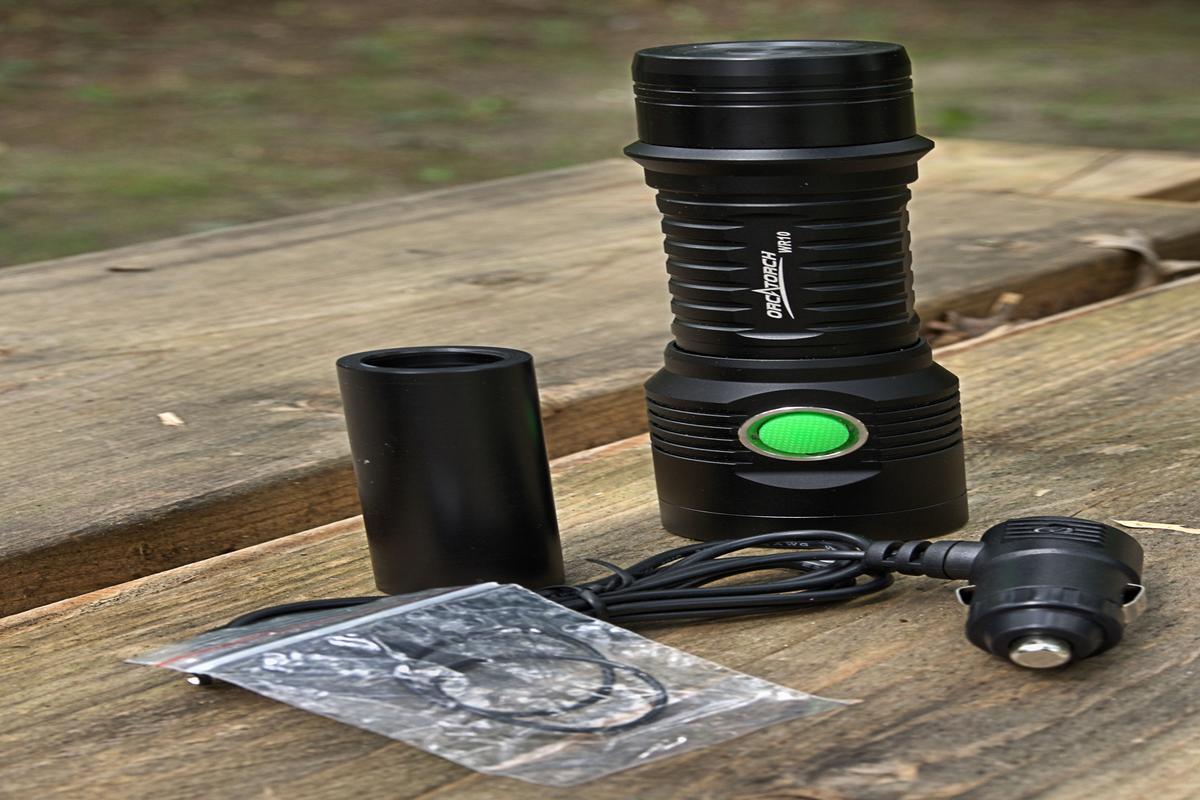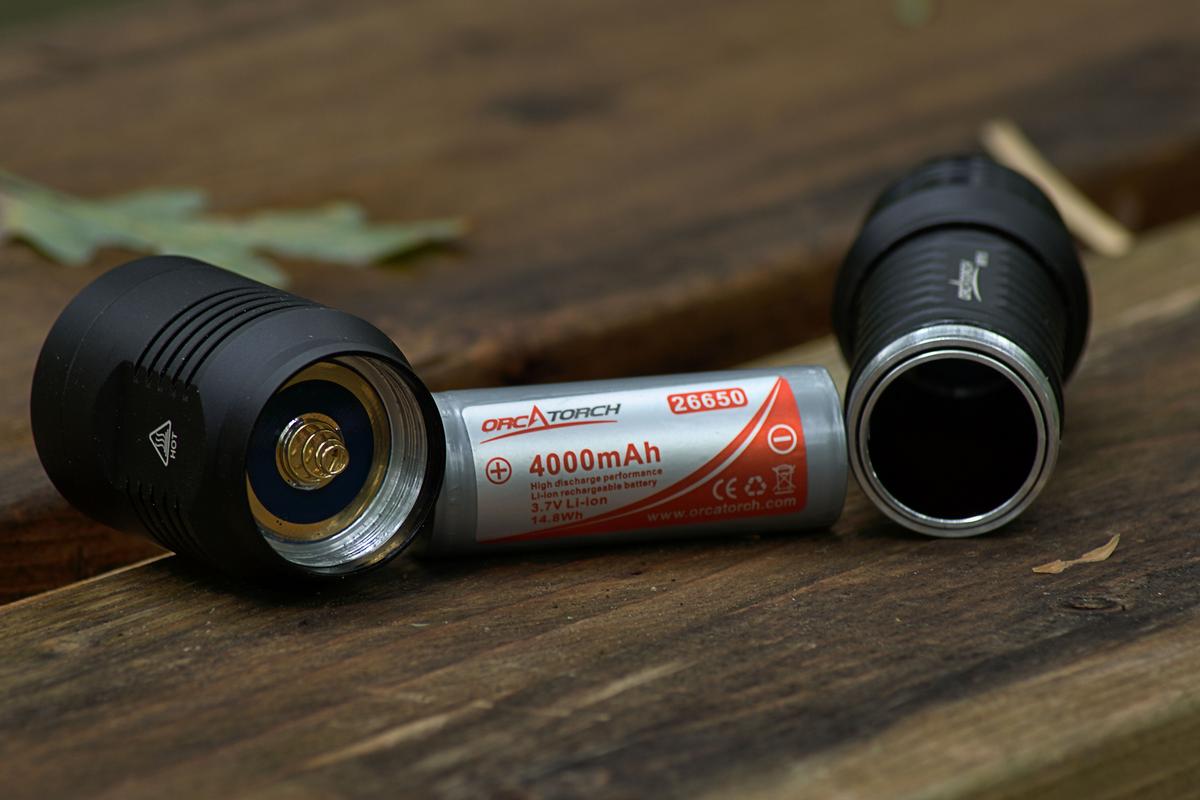 The WR10 is a superbly crafted, extremely high quality, tool with an anodized outer finish that looks great while also protecting your investment from scratches or other damage. The reflector is a smooth alloy aluminum and relatively deep for the size of the flashlight. The lens is coated on both sides and made from toughened glass – minimizing light loss. The body features an anti-roll design and the ability to tail stand with ease. The body and head feature nicely cut grooves that provide heat dissipation, as well as a very good grip.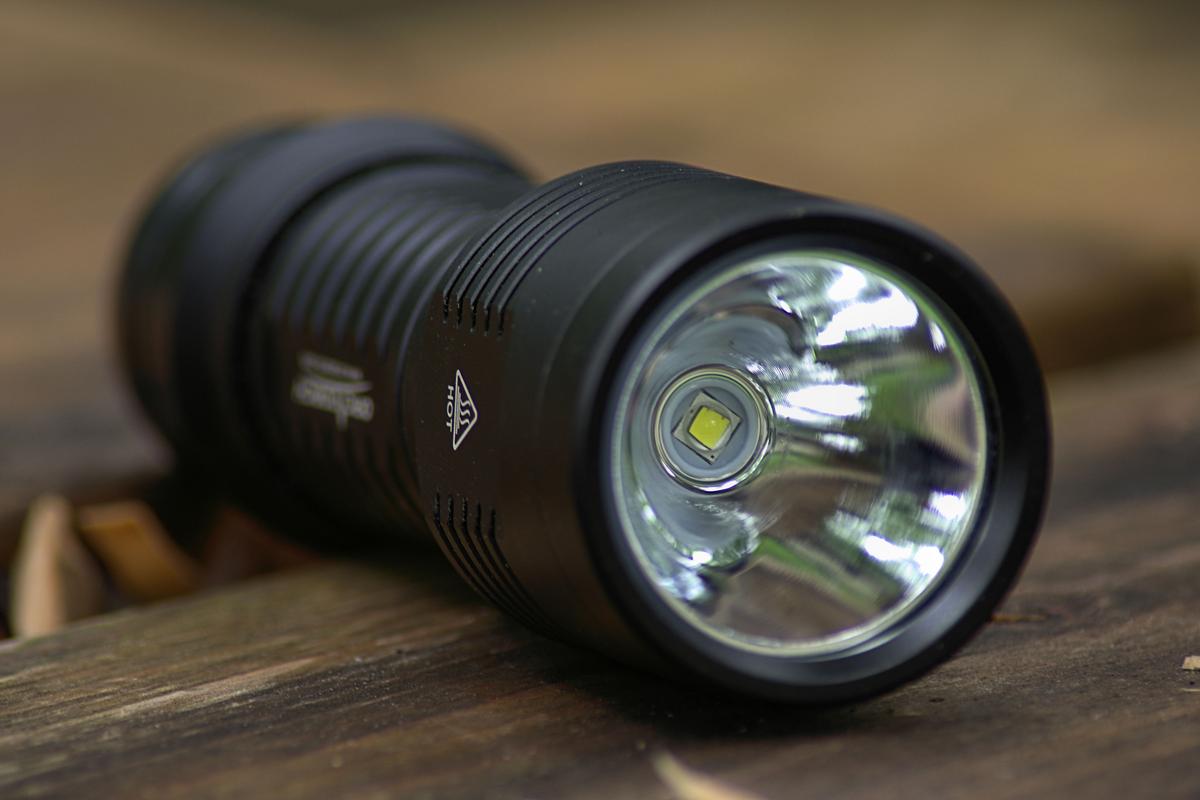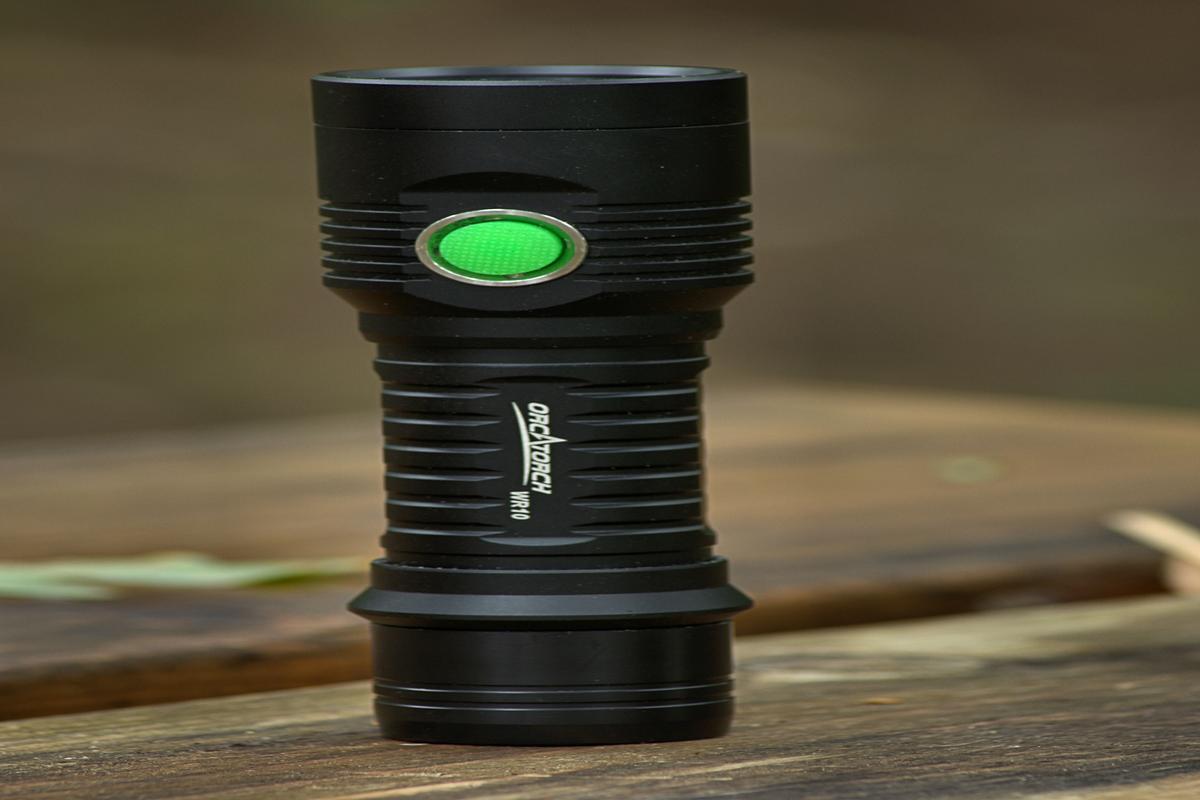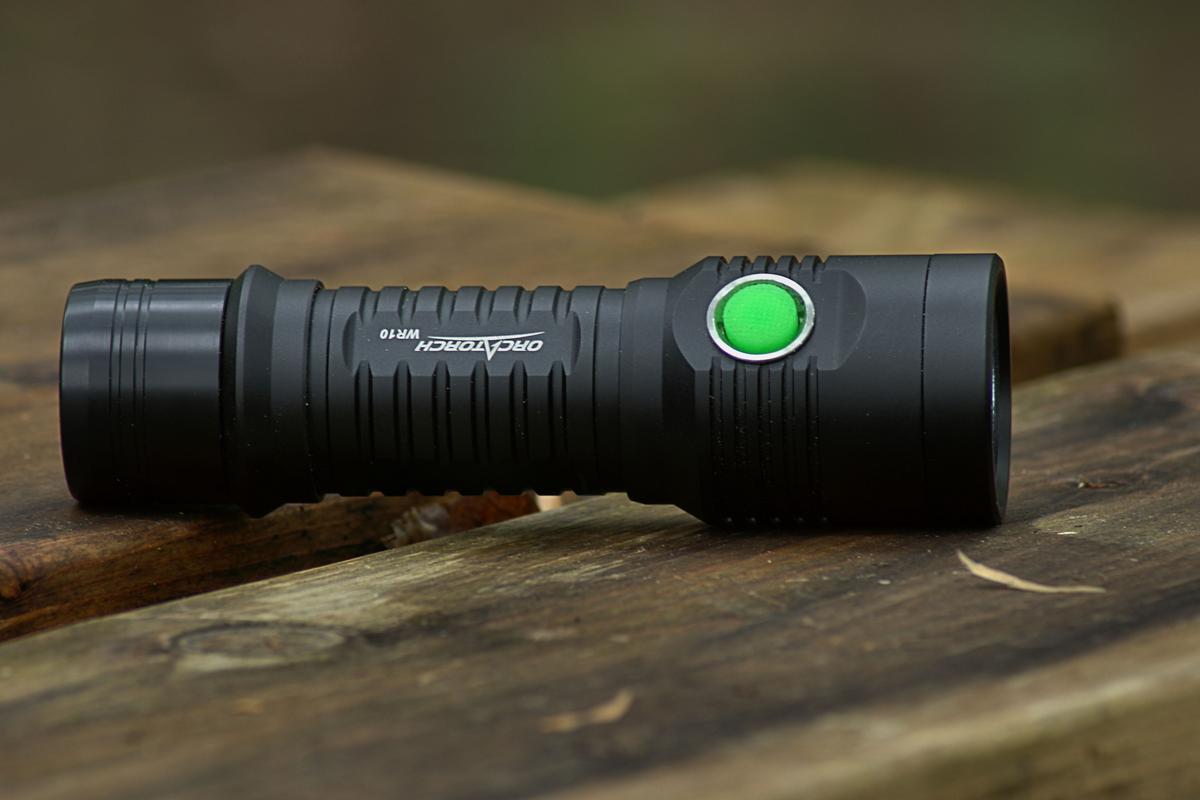 At 6.12 inches in length and a head diameter of 1.77 inches, the WR10 is not what I'd consider an EDC pocket flashlight. It wasn't meant to be. It is designed for home security, emergencies, vehicle security, outdoor activities and mundane things such as nightly walks with Fido. The WR10 is an always-ready-for-duty, no worries about it, capable of handling just about anything you can put it through, tool of amazing usefulness. It fills your hand with a no-nonsense feeling, letting you know you're holding quality before you click the switch. It is sturdy, perhaps even stout – and that is a good thing.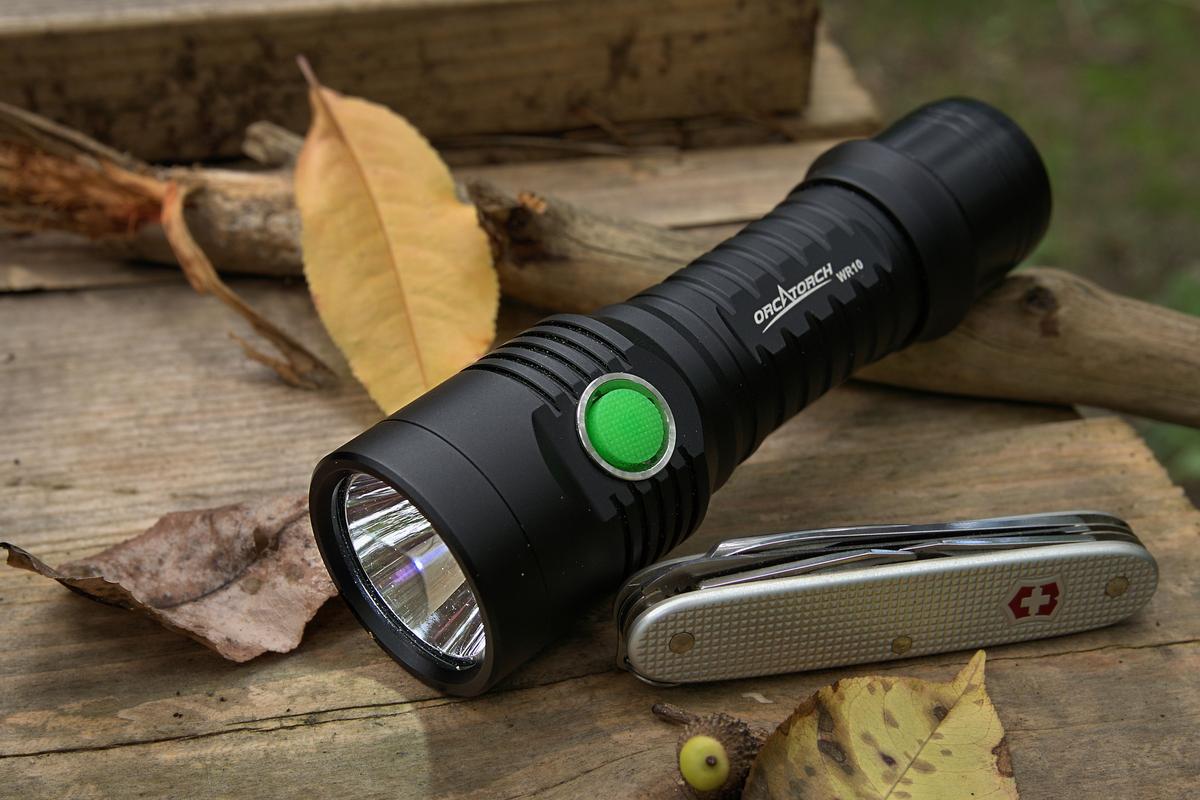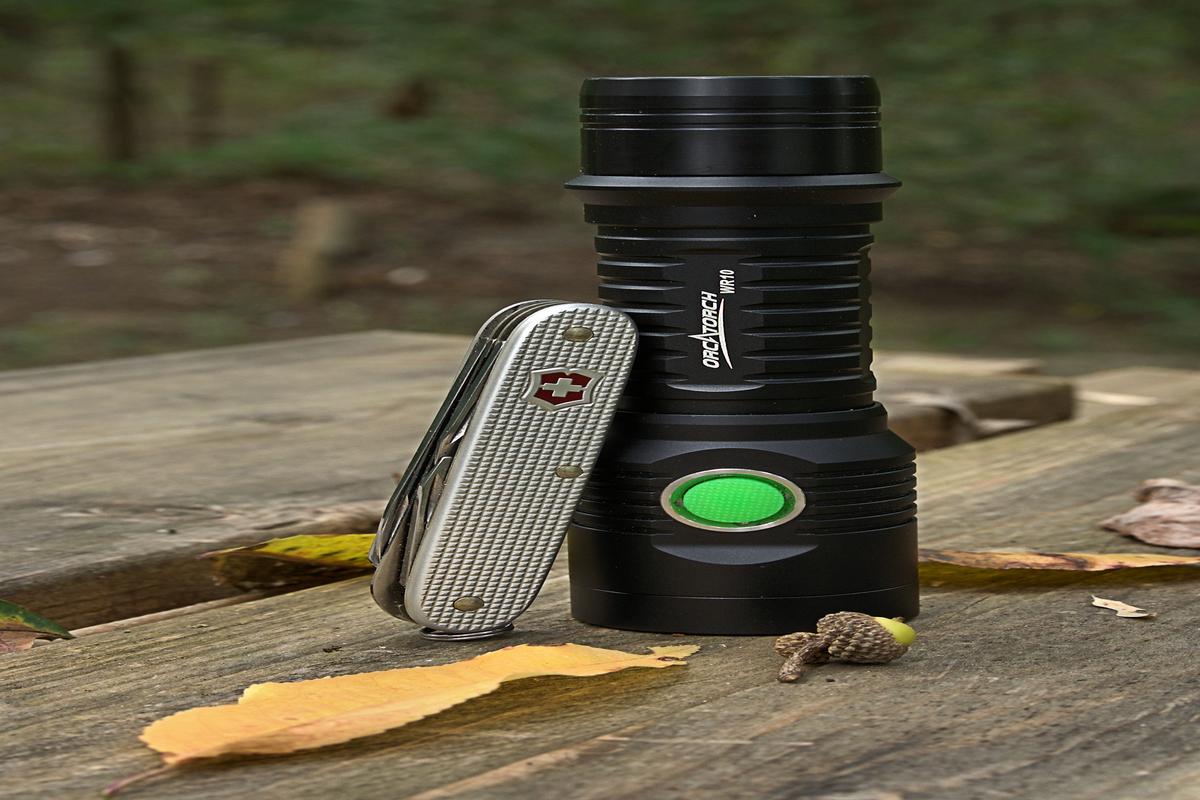 Built-in protections include overheat protection, overcharge protection, over-discharge protection, and reverse polarity protection. The WR10 is waterproof to 2 meters and drop resistant to 1 meter.
No more worries about having extra batteries on hand. The WR10 can use either the included 26650 battery or a 18650 battery (not included).
Plug the charger into an outlet and set the WR10 (butt down) in the charging cradle; the switch glows red while charging and glows green when fully charged. There's overcharge protection too, so you won't have to worry about damaging the battery. The switch will glow red (out of the cradle) when the battery needs to be recharged and the light will reduce itself to the middle mode when the battery has 5% of its capacity left.
The WR10 turns off (automatically) when placed into the charging cradle. Best of all, the WR10 turns on (lowest mode) when the electricity goes out – making it a softly lit lantern and illuminating an entire room (if located so the beam bounces off the ceiling) well enough to make it easy to see your surroundings. No more stumbling around, trying to find a flashlight, when the electricity goes out – making the WR10 the perfect flashlight for those times that we most need a flashlight.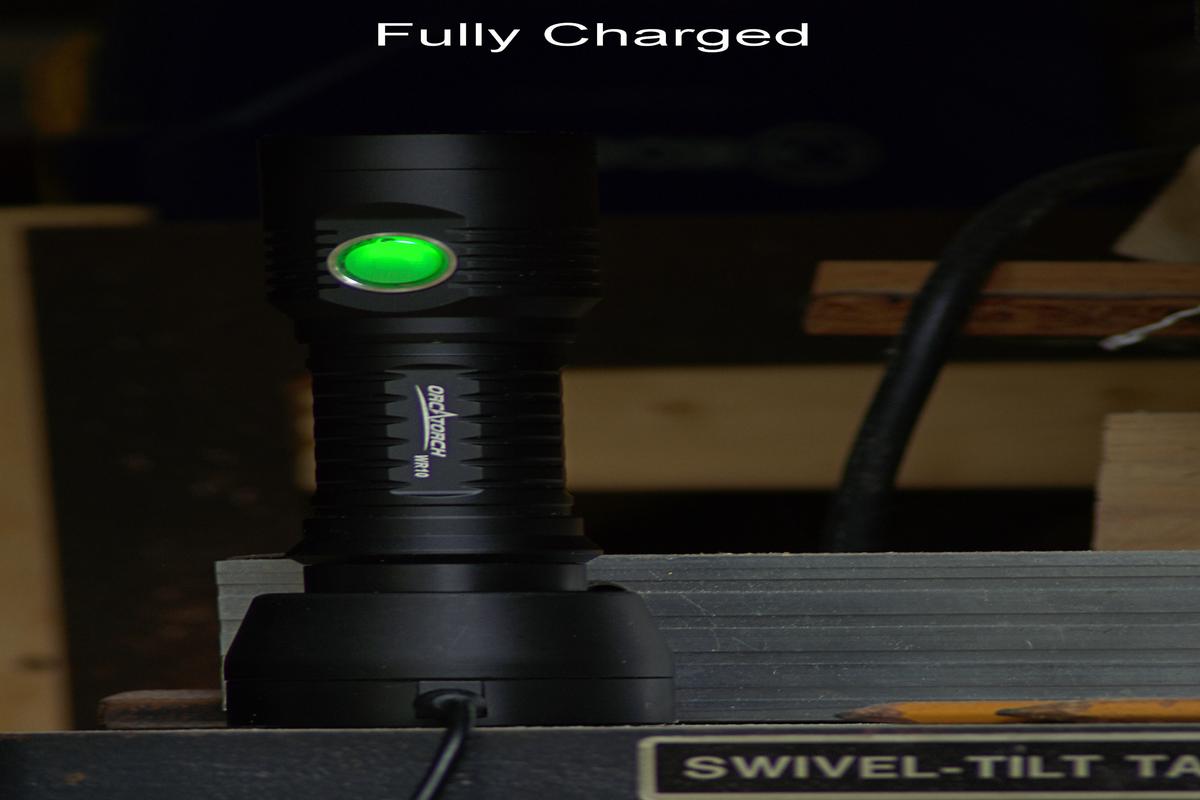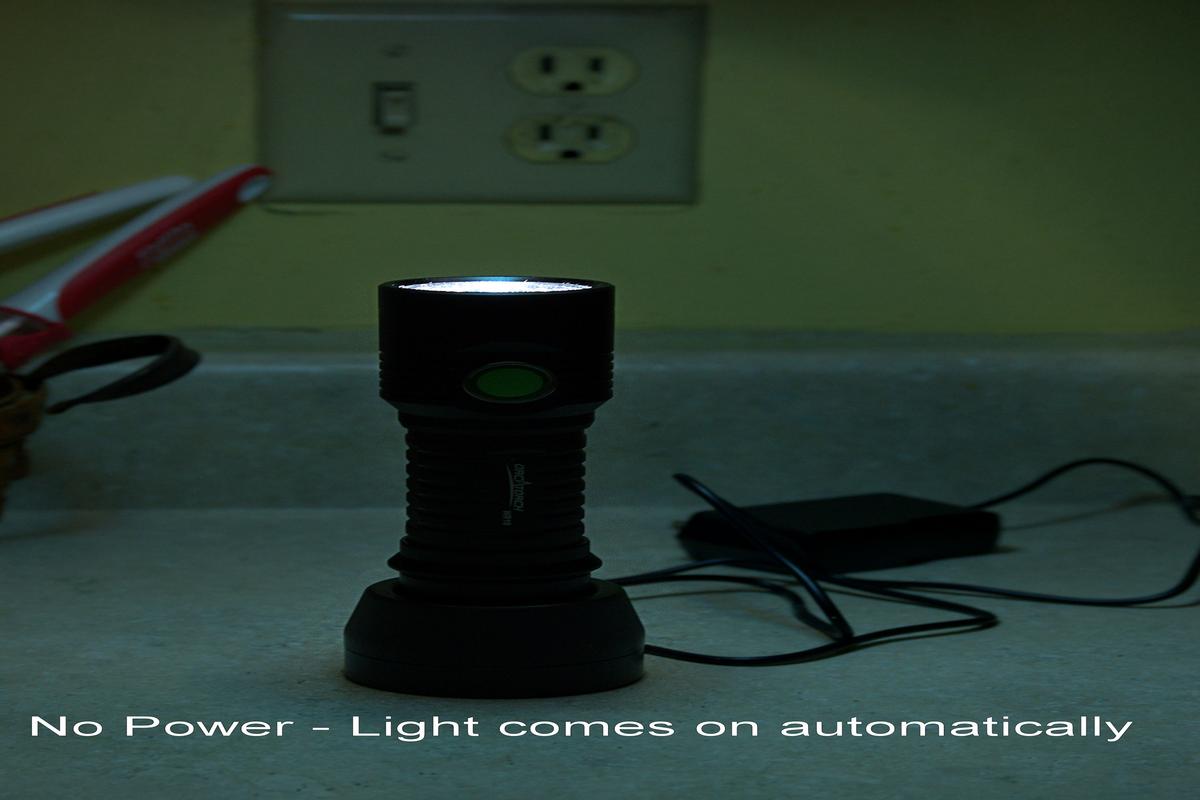 User Interface
The user-interface is simple and straightforward: take the WR10 out of the charging cradle and the light automatically comes on (low mode). Click the switch one time to shut the light off. Click it again and the light comes on in turbo mode. Subsequent clicks change modes downwards until the light is off.
Each click goes to the next mode – On goes to the turbo, click to go to high, click to go to the medium, click to go to low, click to turn the light off.
A simple interface is exactly what is needed in a flashlight that is targeted toward demanding users who need a flashlight that will work when called upon – no matter the circumstances. I can't stress the benefits (of this flashlight) enough – the WR10 turns on automatically when the power goes out, and from the off position, one click turns the flashlight on in turbo mode; the mode most likely wanted in an emergency.
The other two modes (strobe and SOS) are"hidden"but easily accessed when needed: simply press and hold the switch (2-3 seconds) to go to strobe mode. Press the switch again to enter SOS mode. Another press of the switch brings you back to the previous (regular) mode you were in.
Beam Profile
There is a lot to love about the WR10 – the beam is no exception. To my mind, the WR10 features the most useful beam of any flashlight I've used: a bright hot-spot (center beam) with an incredibly smooth transition into the wide spill. It's sheer joy – fun to play with and amazingly effective when things turn more serious.
The light itself is a cool white – not blue, but not a warm light either. I find the tint to be very effective and easy on my eyes.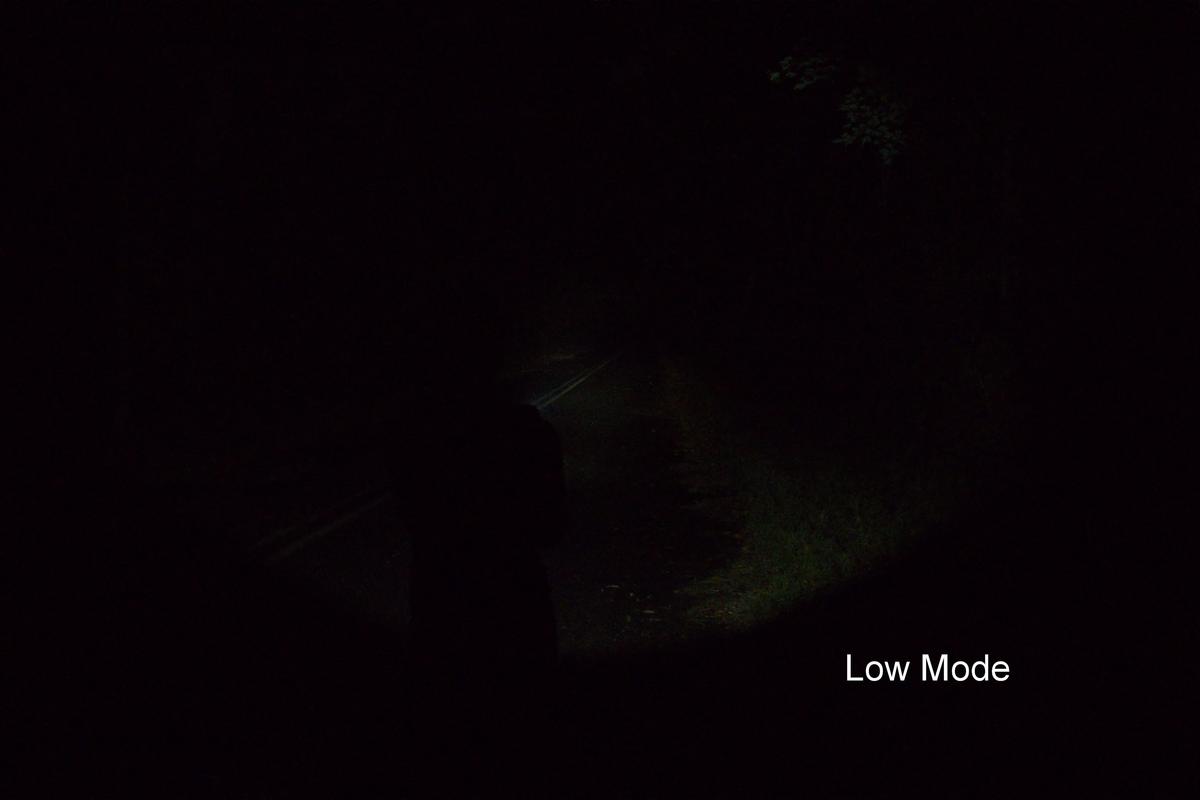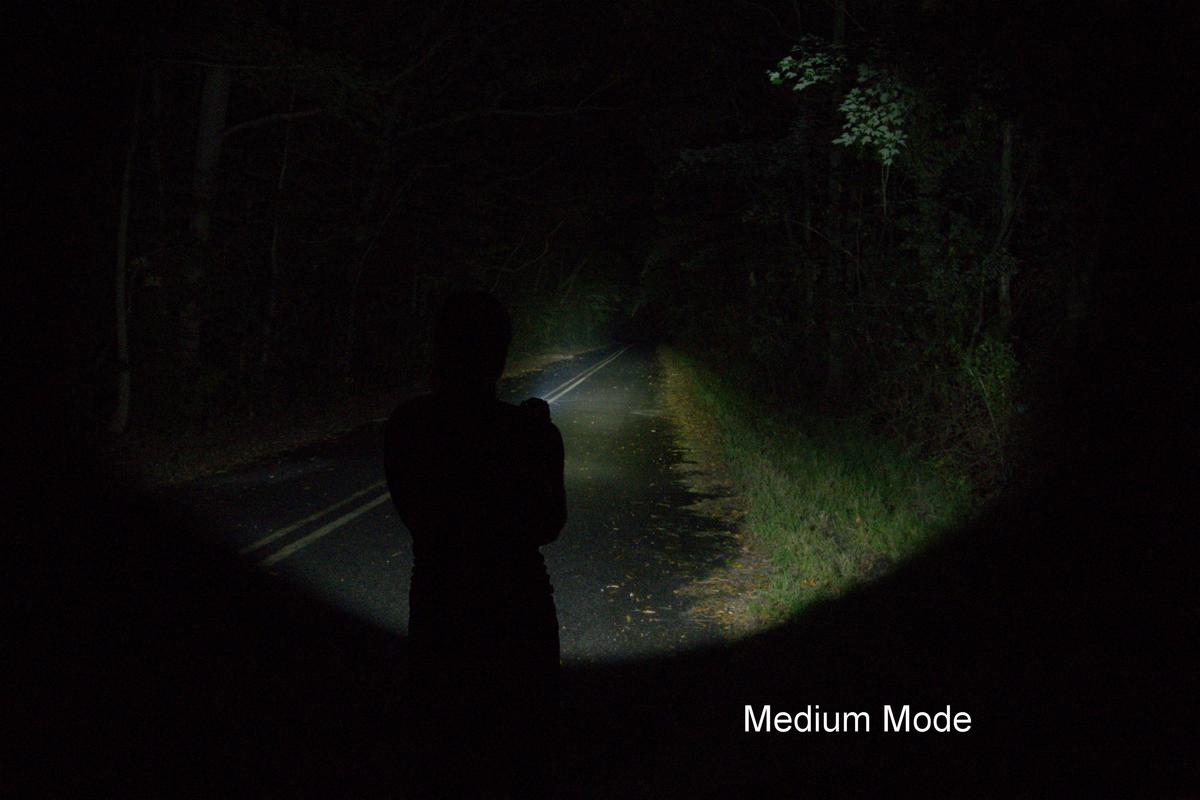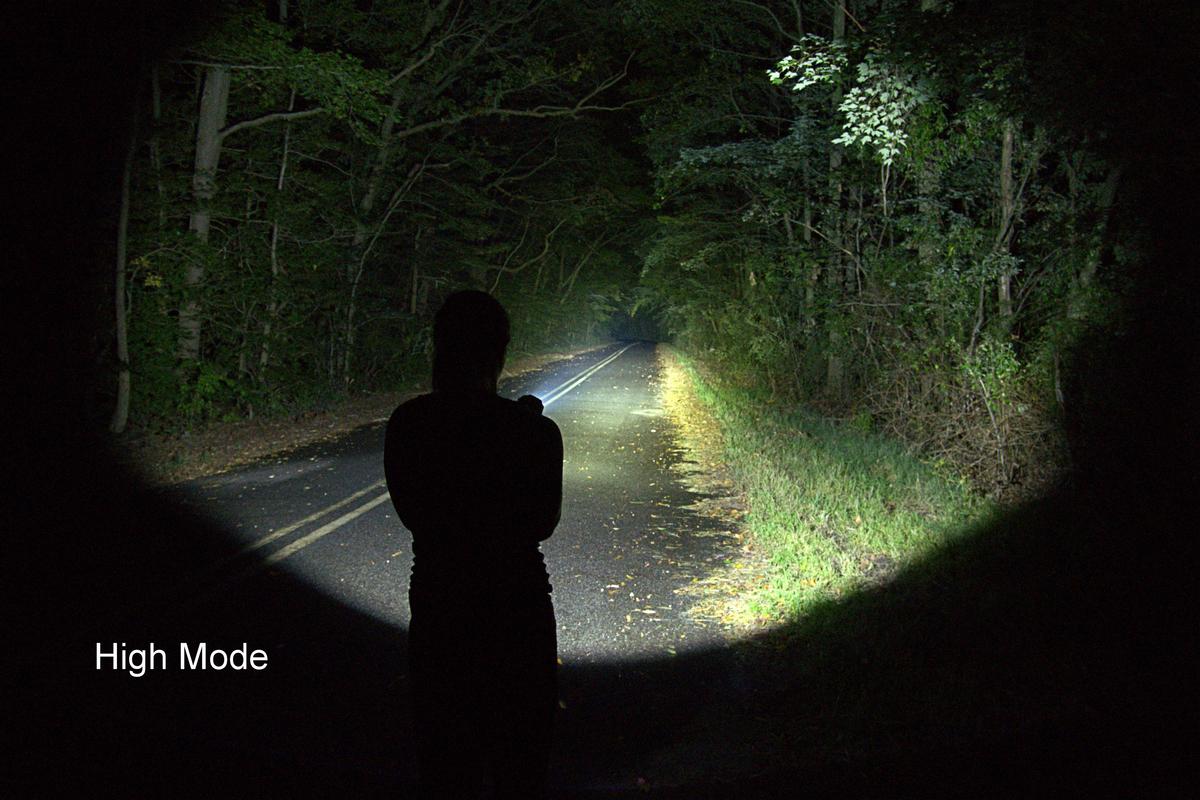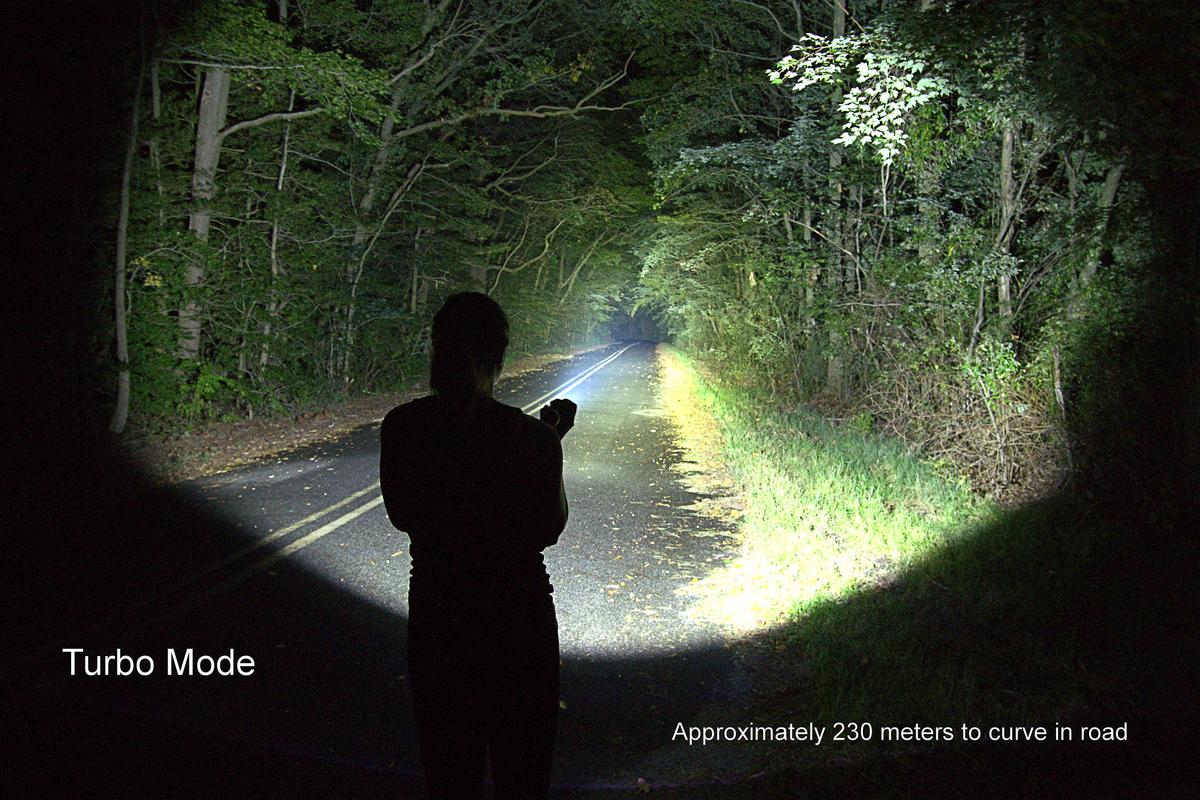 Specs
LED – Cree XM-L2 (U2)
Constant current for consistent brightness
Beam distance rated at 311 meters
Turbo – 950 lumens with a run-time of 2 hours and 40 minutes. Amazingly, the WR10 will run (on turbo) for an impressive 20 minutes before stepping down.

High – 350 lumens with a run-time of 7 hours.

Medium – 50 lumens with a run-time of 55 hours and 30 minutes.

Low – 2 lumens with a run-time of 550 hours (that is 22.9 days). I think the 2-lumen rating is a bit low; I'd guess it is actually closer to 8-10 lumens, but I have no means of measuring that.

Conclusion

At three times the price, I'd still strongly recommend the WR10: it is a bargain at its current price and a tool that should be in everyone's home. The build quality is equal to (or better than) any other flashlight I've ever used, its usability surpasses all other flashlights I've ever used, and the beam is delightfully effective. The WR10 is easy to operate, always ready for duty, and it works as it should.

I've owned the WR10 for awhile now, and used it heavily as I've tried to find some hint of weakness; something I could fault – if for no other reason than not wanting to seem so madly in love with the WR10. So far I've failed to find a weakness – even a minor one – so I am left with the belief that the WR10 may well be the perfect flashlight for the intended audience (the typical flashlight user whose needs cover everything from emergencies to finding that dropped item in the dark).

Does that include you?

Probably.

It certainly includes me, and that explains why I love the WR10.(link is external)